Thank you everyone for your hard efforts in raising funds during the month of April.
Please use the link below to send us the money you have raised.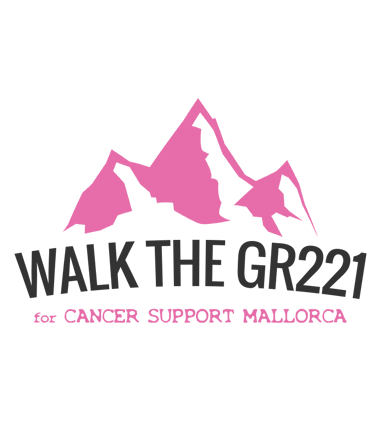 UPDATE
We are so happy to say that as of today (28/03) we have sold 44 of our available 45 sponsorship packs, so there is just one left for grabs!
But we wanted to make it possible for people to continue to register so there is now an option for Free Registration, everything will be the same, but you will just not receive a t-shirt and bag. We are sorry for any disappointment.
WALK AGAINST CANCER IN APRIL
Back in 2020 under the leadership of Anita Vince we had planned a campaign to get people walking more while fundraising to help people with cancer. Due to Covid this had to be cancelled, so we are happy to announce that during April 2023 we will be going ahead with our plan to WALK AGAINST CANCER!
What is WALK AGAINST CANCER about?
Anita Vince had breast cancer in 2014 and as part of the healing process she decided to organise a walk over the Tramuntana mountain range with friends. Every year since the first walk in 2016 Anita and her crew have Walked the GR221 to raise money for Cancer Support Mallorca, this has always been done during the Easter Period and over the years they have raised over €15000 for cancer charities in Mallorca.
After a few years off due to COVID the ladies went island hopping last year to walk the GR223, otherwise known as the Cami de Cavalls, in Menorca. They will be returning this year to complete this walk and as always will be looking for sponsorship as they do this.
But they've noticed that many would like to take part in these walks but don't have the time, stamina or general circumstances to do so, hence Anita came up with the initiative to Walk Against Cancer, where you can walk the distance of the GR221 throughout April, in your own time, at your own pace, with your own friends, family or loved one.
What is involved?
In general terms people who sign up will challenge themselves to walk a certain number of steps during the month of April, the total steps equalling the steps needed to walk the whole or part of the GR221. On registration participants will be given a chart that they can mark showing their progress during the month, some may be able to do the whole amount of steps, others may be able just to do certain stages that they choose, either way, the idea is for people to get more active and to raise money for charity.
How to get involved.
Use the registration form below, all those who register will receive a pack including a t-shirt, cloth bag, sponsorship materials and a progress chart. Please register as soon as possible to book your pack. Registration cost is €10 per person.
When will the event start?
On the 1st of April we will have our launch event at The Olive Tree, all registered participants can collect their pack, there will be an initial walk starting and ending at the place of the venue, the walk itself will take about 1 hour 30 minutes and will be a big boost to the week's steps. On returning to the starting point all who so desire can stop for refreshments and discuss their plans for the month ahead. More details on time, location and price will be posted on our website and social media.
(Arrangements will be made for those unable to attend the launch to collect their pack at another time).
What will be going on during the month?
There will be a Facebook group and a Whatsapp group where all registered participants can share their progress, discuss any problems in reaching their goal, arrange meet ups and walks with other participants, etc.
How will the event end?
On the 30th of April there will be a final group walk, that will finish at Sa Vinya, where all will be able to enjoy food and refreshments as well as an evening of entertainment, fun and a raffle, spot prizes will also be awarded and all those who took part will receive certificates to recognise their achievement.
More details on time, location and price of launch and final event will be posted on our website and social media.
If I can't sign up can I still help?
Yes, of course, you can sponsor others, you can donate directly on the Walk the GR221 Facebook fundraiser, or you can volunteer to help with organisation and participation at events.
Where will the money go?
All money raised will go to Cancer Support Mallorca, a charity that helps cancer patients in Mallorca and Menorca. They provide translators, counselling, nutritional advice and alternative therapies for free. They also have volunteers who help cancer patients with Spanish bureaucracy. And they provide items to cancer patients such as wigs, bandannas, prosthesis, all free of charge. Additionally they give awareness talks in English and Spanish at schools, clubs, etc. For more information visit www.cancersupportmallorca.com.